AX-DSP
NLA - No Longer Available Use replacement part AXDSP-X
MSRP: $315.00 USD
Part is no longer available. Use replacement part AX-DSPX.
——————————————————————————-
Digital Signal Processor – AX-DSP
AX-DSP Digital Signal Processor with Chime Control and Digital Amp Turn-On Capability

31 band graphic EQ
6 inputs and 6 outputs including front – rear and subwoofer
Selectable high and low level inputs
Front – rear and subwoofer outputs have an independent two-way crossover in-line with the EQ
Front and rear outputs can be delayed independently up to 10ms
Easy behind the radio installation
Can be used with OE and aftermarket radios
Chime control for vehicles with amp-generated chimes (When retaining

OEM

radio)
Retains Sonar sensors in vehicles where the tone is provided by the amplifier (When retaining

OEM

radio)
Clipping detection and limiting circuits
Retains OE voice prompts (

SYNC

and OnStar)
Settings adjusted via Bluetooth application compatible with both Android and Apple devices
Read – Write and Store your configuration for future recall.


AX-DSP Patent Number 9,875,078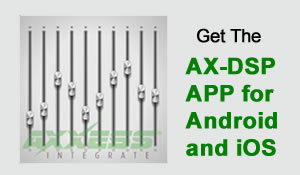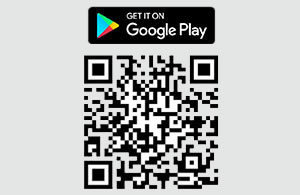 Requires Android 4.1 (Jelly Bean) or Higher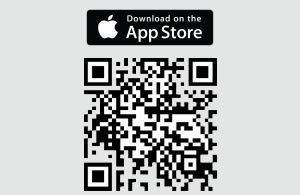 Requires iOS 10.2 or Higher
See the individual harnesses for specific applications.
Specifications
Input Specs
Input Channels
6 High/Low level Selectable
Input Options
High Level or Low Level
Input Type
Differential-Balanced
Input Voltage
High Level Range
0 - 15.5 volts Peak to Peak
Input Voltage
Low Level Range
0 - 4.9 volts Peak to Peak
Output Specs
Output Channels
6 Outputs
Analog Output
Unbalanced RCA Jacks
Output Voltage
5V RMS
Output Impedance
47 Ohms
EQ Specs
Equilizer Type
31 Band Graphic EQ,
+/- 10dB
THD
0.02%
Frequency Response
20Hz - 20kHz
Crossover
2-Way LPF / HPF per channel
Crossover Type
Linkwitz-Riley
24BdB Slope, Fixed
Sampling
48Khz
S/N Ratio
92dB @ 5V RMS
General
Operating Voltage
10 - 16VDC
Standby
Current Draw
~7mA
Operating
Current Draw
~150mA
Adjustments/Controls
Application via Bluetooth
Remote Output
12 volt DC, Signal Sense
or with Ignition